Hotels and sleeping accommodation
Crowne Plaza hotel - congress venue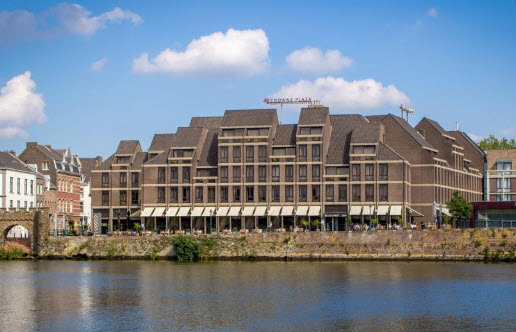 The Crowne Plaza hotel is our main congress venue. It is excellent situated at the border of the Maas, east side, in the cosy Wyck district. Explore the many shops, bars, restaurants in that district and cross the river by the nearby 'Hoge Brug' or Servaasbrug to discover other parts of the stunning Maastricht.
The hotel houses the restaurant de Mangerie where a copious breakfast buffet is served.
Location: Ruiterij 1, 6221 EW Maastricht.
Book your room at Crowne Plaza now
You can directly book your room in Crowne Plaza Maastricht from here at special room rates, breakfast included. FREE cancellation until 8 days prior to arrival. No deposit requried.
room type
single
double
triple
breakfast
city tax*
standard room
luxe/executive room
no more
€ 149,00
available
€ 169,00
n/a
included
€ 5,55
Book your room now
*city tax is per person per night to pay
Other hotels via Hotel Services MECC Maastricht
The hotels below can be booked via Hotel Services MECC Maastricht.
| | | | | | | | | | |
| --- | --- | --- | --- | --- | --- | --- | --- | --- | --- |
| Hotel | 05-08 | 06-08 | 07-08 | 08-08 | 09-08 | 10-08 | 11-08 | Breakfast | Citytax |
| NH Hotel Maastricht**** | € 89 | € 89 | € 89 | € 89 | € 89 | € 89 | € 89 | € 16,90 | € 5,20 |
| Apart Hotel Randwyck**** | € 80 | € 80 | € 80 | € 80 | € 80 | € 80 | € 80 | € 15,00 | € 6,00 |
| Kaboom Hotel*** | € 158 | € 158 | € 124 | € 144 | € 144 | € 144 | € 144 | € 12,50 | € 6,50 |
| Green elephant | € 154 | € 154 | € 114 | € 134 | € 134 | € 134 | € 134 | € 9,95 | € 4,90 |
| Novotel Maastricht**** | € 119 | € 119 | € 119 | € 119 | € 119 | € 119 | € 119 | € 19,00 | € 5,20 |
| Apple Park Maastricht**** | € 69 | € 79 | € 79 | € 79 | € 79 | € 79 | € 79 | € 15,00 | € 5,20 |
| The Dutch*** | € 140 | € 140 | € 125 | € 125 | € 125 | € 125 | € 125 | € 8,50 | € 4,37 |
| Stay Okay dormitory | € 39 | € 39 | € 35 | € 35 | € 35 | € 35 | € 35 | € 8,25 | € 2,15 |